About Wolsey Road Club
The Wolsey Road Club is an Ipswich-based club that is run by cyclists for cyclists. Our members regularly participate and compete in time trials, sportives, reliability rides, road and cyclo-cross races. We have a weekly club ride (Saturday mornings) and there is a wealth of knowledge within the club if you need help or information.
The club rules are available here.
Saturday Mornings – If you are interested in joining us on a Saturday morning please contact secretary@wolseyroadclub.co.uk.
Summer times are now in place – the start time of the Club ride is at 8:00am from the Ropes Drive/Woodbridge Road roundabout (2nd roundabout going East out of Ipswich) and at 8:30am from Melton traffic lights.
We can pick people up from Crown Point at approx 8.10am but please tell us if you want to meet here as we currently don't stop, just ride through.
At 8:30 we set off from Melton traffic lights on a circular loop through Wickham Mkt, Easton, Framlingham, Sternfield, Snape, Tunstall and Eyke. The loop is approximately 28 miles and the whole ride is about 40 miles round trip to/from Ropes Drive roundabout.
We stop briefly in Framlingham for a short breather but there are no ride stops and we get back to Kesgrave at about 11:00-11:30 so you are free for the rest of the day to spend time with your family. You need to bring your own water/energy drink and suitable clothing.
Café rides – On the first Saturday of each month we have a café stop club ride.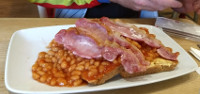 Please contact secretary@wolseyroadclub.co.uk if you want to join us for this.